Often referred to as the `The Switzerland of East India' Nagaland embodies beauty beyond words. Narrow strip of mountainous territories and rugged hills, emerald valleys, sparkli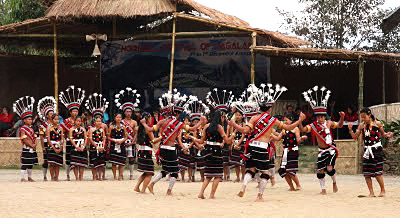 ng streams and magnanimous portions of rich flora and fauna. Nagaland is endowed with a salubrious climate throughout the year. Trekking and jungle camping, exploring lush sub-tropical rainforests discovering a treasure trove of medicinal plants. If this is not reason enough to go on a vacation to Nagaland, here is another tempting intention to wrap up your year on a pleasant note.
The 'Hornbill Festival' celebrated annually in Nagaland during December, celebrates the Majestic Indian Hornbill, revered and greatly respected by the Naga Tribes. Lauded for its alertness and grandeur, songs and folklore reflect the role of the bird in Naga culture. Admiration for the bird is symbolically displayed by the tribal headgears worn for the festivities. Celebrated by the indigenous warrior tribes of Nagaland, this annual festival is held at the Naga Heritage Village.
Traditional Art, dances, folk songs, and games. Tribal huntsmen dressed in colorful costumes, complete with wood carvings and hollow log drum instruments.
Indian Eagle will take you to Nagaland at the Lowest Airfare to witness each community adorned with distinguished and intricately designed costumes, jewelry and beads. The traditional ceremonial attire of each tribe is unique and set apart. Multi-colored spears and daos decorated with dyed goat's hair, the headgear is made of finely woven bamboo interlaced with orchid stems, boar's teeth, hornbill's feathers and ivory armlets. Warriors had to prove their valor to rightfully earn their headgear.
At sundown, the key attraction is the Hornbill National Rock Concert. Bands from across the country compete with each other for the coveted title. The festival is aimed to resuscitate and preserve the rich culture of the Nagas.
Conserving their prime occupation tribals of Nagaland depend on agriculture for their livelihood. The themes for the festival revolve around agriculture, ethnicity, diversity and the grandeur of Naga hertiage.16 major tribes with their own distinct languages participate with oneness encouraging inter-tribal interaction.
Plan your visit to Nagaland with Indian Eagle. Celebrate with the Nagas, Fly at the Lowest Online Airfare. Conclude your year on a celebratory note.