India is often referred to as a land of Shrines and Amazing Temples. Different religions have become famous for their own dedicated places of Worship. Shravanabelgola, in Hassan district Karnataka is famous for the statue of Gommateshvara Bahubali. Shravanabe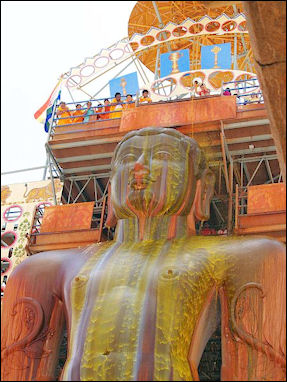 lagola gets its name from the pond located between the hills Vindhyagiri and Chandragiri."Bel" means white, while "kola" means pond, an allusion to the beautiful pond in the middle of the town. The largest pilgrimage destination for Jains, the statue has hordes of devotees inundate Shravanabelagola every year.
Nestled amidst two hills, Vindhyagiri and Chandragiri, the town has witnessed followers of Jainism visit the picturesque town for more than 2,000 years. Carved elegantly, the architectural marvel of Gomateshwara or Bahubali is the world's largest monolithic sculpture. Belagola in Kannada is a white pond and Shravana translates to Jain monk or ascetic.  The 58 ft high stone statue of  Lord Gommateshwara is located above the Vindhyagiri Hill.
Weighing approximately 80 tons, carved from a single rock, the accuracy and sense of proportion is spellbinding. Curly ringlets with eyes open, facial features perfectly chiseled with a faint touch of a smile at the corner of the lips. Broad shoulders with arms stretched straight downwards, the statue looks so surreal.
The anthill is symbolic of incessant penance with a snake and creepers twined around the legs. The arms have a cluster of flowers which are artistically carved. The posture of meditation known as Kayotsarga, symbolizing renunciation and self-control, which is considered the first steps towards salvation.
The entire figure stands on an open lotus, with two tall and majestic chauri bearers on either side. One named yaksha and the other yakshi.
The statue was installed and consecrated by Chavundaraya, the Prime Minister and Commander-in-Chief under the rulers- King Marasimha II, Rachamalla IV and Rachamalla V of the Talakad Ganga Kingdom in 981 A.D.
Inscriptions in Kannada and Tamil can be seen at the base of the statue. A treasure trove of 500 inscriptions, some of them refer to Sallekhana (starving to death) observed by  Jaina ascetics. Most of the inscriptions at Chandragiri date back to the 10th century. These inscriptions have helped modern scholars analyze the nature, growth and development of Kannada language and its literature.
Every twelve years devotees perform the Mahamastakabhisheka to the statue of Lord Gomateshwara. Water kept in 1008 kalashas (vessels) is collected from almost all the rivers and water resources to bathe the statue. Jain priests pour pots of curd, milk, honey, vermilion, coconut water, turmeric paste including gold and silver coins during the ceremony.The next Mahamastakabhisheka will be held in 2018
Book with Indian Eagle to Karnataka to gauge the skill crafted in carving out the statue of Bahubali with intricate designs and Jain temples called Bastis or Basadis.