Raksha Bandhan or Rakhi ceremony is a festive celebration of brother-sister relationship that is observed on a full moon day in the month of August every year. Like Mother's Day, Father's Day, Friends Day, Children's Day and Teachers' Day, Raksha Bandhan is a festivity that is observed in honor of love as well as affection between brothers and sisters in India. Rakhi Ceremony not only marks the brother-sister bond but connects NRIs with India too. Unlike other occasions, this festival has a multifarious association with the scripture, mythology, epic, history and the colonial past of India. Indian Eagle delved into different eras, collected the legends of Rakhi and pieced them together in this post: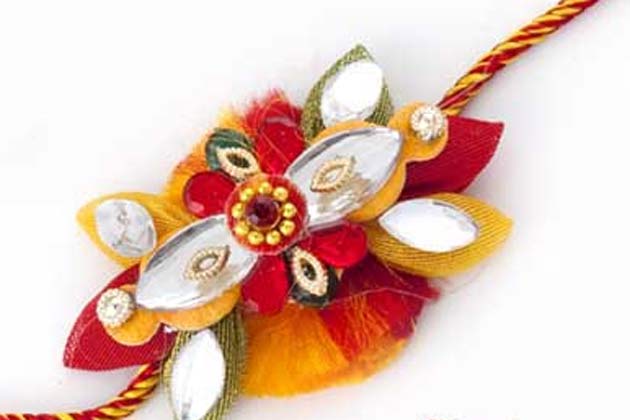 Rakhi and the Colonial Past of India
Rakhi festival got a larger and higher meaning during the movement against partition of Bengal in 1905 when Rabindranath Tagore used Rakhi as a powerful thread of harmony as well as unity to tie the people of Bengal with. He universalized the significance of Rakhi beyond the celebration of brother-sister relationship to that of brotherhood among the people irrespective of caste, language and religion. In 1905, the Raksha bandhan ceremony was observed as a celebration of nationalism among the Hindus and the Muslims of the then undivided Bengal against the British Raj.
Rakhi and the History of India
It was Rakhi that made the history of Chittor in Rajasthan a chapter in the biography of Mughal Emperor Humayun. Rani Karnavati sent a Rakhi to Humayun along with a request to defend Chittor from Bahadur Shah, the Sultan of Gujarat. Touched by the love and affection that Rakhi stands for, Humayun set out to protect Chittor. However, Bahadur Shah seized the fortress by the time Humayun reached there. Rani Karnavati and other women of Chittor set themselves on fire, to avoid suffering dishonor in the hands of the invader. Out of his respect for Rakhi, Humayun restored Chittor and handed it over to Rani Karnavati's son.
A deeper delve into the history of India explores Rakhi's association with the Battle of Hydadpes between Alexander the Great and Porus in 326 BC. When Alexander came to invade India in 326 BC, his wife Roxana sent a Rakhi to Porus as an entreaty to take mercy on Alexander in battle. When Porus was to overthrow Alexander in the battlefield, the Rakhi on his wrist reminded him of the plea made by Roxana and stayed back from defeating Alexander.
Rakhi and the Epic of India
The origin of Rakhi is further traced back to the Mahabharata in the scripture of ancient India. In an episode of the epic, Draupadi tore a piece of cloth from her apron and wrapped it around Lord Krishna's bleeding wrist. Touched by her care and affection, Krishna made her his sister and promised to protect her. Since then, Rakhi has symbolized sisters' care for brothers, and brothers' commitment to protect sisters.
Rakhi and the Mythology of India
Gods and Demons were always at loggerheads. Once, Demons overtook Indra in a war. Touched by the defeated condition of her husband, Indra's wife Shachi brought a holy thread and tied it around his right wrist, amidst the changing of Veda Mantras. The holy thread was a thread of love and power which drove Indra to win victory over Demons.
To go by a mythological legend of Yama the God of death and his sister Yamuna in the scripture of ancient India, Rakhi blesses brothers with immortality. Yamuna's Rakhi had endowed Yama with the blessing of immortality.
Indian Eagle, out of its commitment to connect NRIs with India, promises cheap flights from the US and Canada to India.