God's Own country, Kerala is known for its backwaters with coconut trees dotting every street. The rich heritage of Kerala has made it a favorite with tourists.
Onam is the most important festival celebrated in Kerala which is celebrated with great pomp and show. Colourful aquatic festivals are organized with participation by men, women and children.
One third of Kerala is covered with canals, lakes and backwaters. Boats are a common means of transport. The famed Snake Boat race coincides with Onam. Boa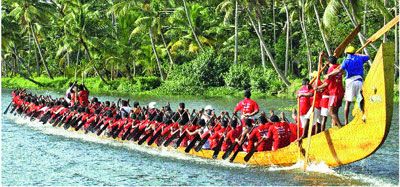 tsmen decorate their boats with flowers in different colours and compete with each other.
The streets resembles a Carnival lasting for ten days. Intricately decorated Pookalam( floral design on the floor), ambrosial Onasadya(11 dishes meal), breathtaking Snake Boat Race and exotic Kaikottikali dance, the celebration never comes to an end.
Book your tickets to Kerala this August to be a part of the celebration during the season of harvest. Onam festivities are celebrated for the bountiful yield. Onam marks the reverence given to King Mahabali under whose reign Kerala witnessed its golden era.
The reasons to visit Kerala are many, so is traveling with Indian Eagle. Best Online Deals,  Guidance from Travel Specialist, Cheapest Online Airfare the reasons to book with Indian Eagle are many.