Indian Eagle, a leading US-based international travel organization in the air ticketing industry, is up with another campaign around the Mother's Day 2018. Trusted by Indians in the United States for booking cheap economy flights to India and cheap business class tickets to major Indian cities, Indian Eagle is all set to give a special discount of $15 on booking of flights for mothers in the segment of adult female travelers. Indian Eagle's Mother's Day 2018 Campaign is open to all, including the existing customers, subscribers and prospects.
The Mother's Day 2018 falls on May 13 in the United States. Inspired by the phenomenal success of the Women's Day 2017 Campaign, Indian Eagle Travel is offering discounted booking* for its valued customers to gift a flight to their mothers this Mother's Day. The offer has been extended to potential customers, too. Indian Eagle's Mother's Day 2018 campaign is not merely a discounted online travel booking program but is focused on a feel-good message:
"Mothers used to make paper flights for us when we were kids. Let's recreate the moment for them by booking their flights this Mother's Day."
Conceptualized around this heart-warming message, Indian Eagle Travel's discount coupon is primarily intended to make the customers and their mothers cheer this Mother's Day. The airfare discount coupon for flights to India from USA or for flights to USA from India is applicable only for online booking at Indian Eagle.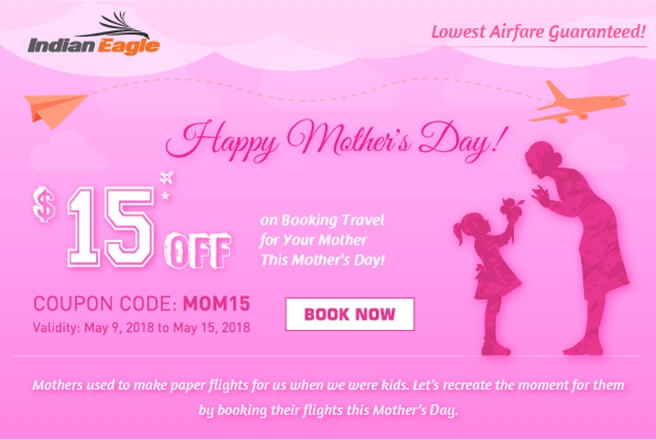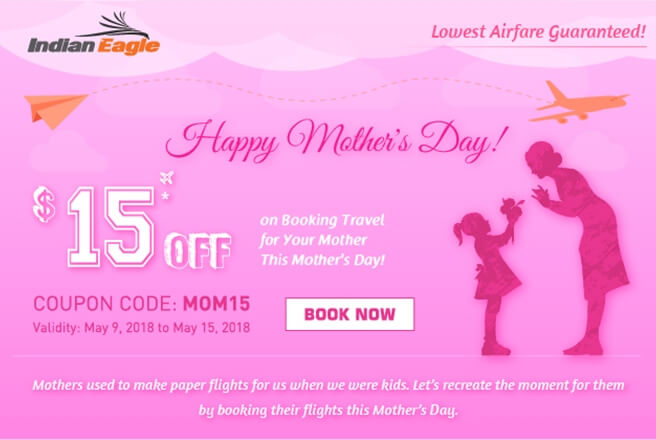 Booking of flights between the US and India for the summer travel season 2018 is in full swing now. With the summer vacation very near, cheap last-minute airline tickets to India are in high demand. Those looking for discounted airfares to book cheap flights for their mothers this summer should not miss Indian Eagle's Mother's Day 2018 campaign.
"These days we celebrate most of the occasions and festivals through gifting to our dear and near ones. Usually we gift material things to our mothers on the occasion of Mother's Day. Why not go unconventional and gift a flight to your mother this year! Ours is a win-win campaign for both customers and their mothers," the chief travel economist of Indian Eagle said.
Using Indian Eagle's discount coupon for online travel booking is simple and easy. Just log on to IndianEagle.com and register yourself providing the requested details about you. Based on the travel plan for your mother, do use the flight search engine to access the range of itineraries and fares from different airlines. Do select an itinerary of your choice and apply the coupon code 'MOM15' for a $15 discount on the fare at the time of booking online.
Direct or indirect redemption of Indian Eagle's travel discount coupon for Mother's Day depends on the avialable itineraries. The coupon is directly applicable for redemption at the time of booking online in the case of select itineraries. The coupon may not be redeemed at the time of booking for a few other select itineraries. The coupon value will be refunded to you in a separate transaction post booking confirmation. The other terms and conditions of Indian Eagle's Mother's Day campaign include:
The coupon is valid for a new booking from May 9 until May 15, 2018 and can be used only once.
The coupon is non-transferable and holds no cash value.
The coupon is applicable to online travel booking for mothers.
The coupon is not applicable for already discounted itineraries.
The coupon cannot be combined with other coupons, discounts, or Eagle Rewards.
The coupon is not applicable for other services including but not limited to travel insurance, booking cancellation and itinerary modification.
The coupon is void if restricted or prohibited by law.
For any query regarding the campaign and the discount coupon, please reach out to Indian Eagle at 1-800-615-3969.