A nine-year-old Bengali NRI boy named Oyon Ganguli from Waltham in Massachusetts won the Mighty Minds Contest, a competition for American youth inventors. Oyon Ganguli is a grandson of none but great Bengali writer Sunil Gangopadhyay from Kolkata. This Indian American boy of Bengal origin beat other participants on strength of his winning invention "The Cleaner", an innovative device to filter and recycle water. (Watch a video of The Cleaner by Oyon Ganguli below)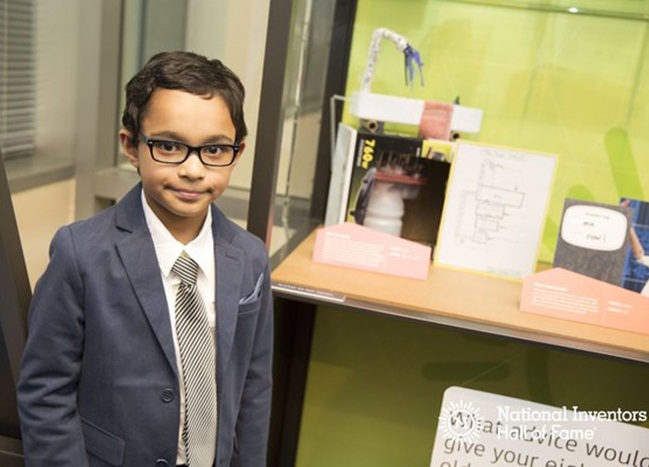 Oyon Ganguli collaborated with his friend Mateo Rosado in this project. He told a Waltham-based local newspaper that he hit upon the idea of creating such a water-recycling device while watching a video of the ALS ice bucket challenge, in which participants are required to dump buckets of cold water on each other's head. He was surprised at sheer waste of water because a "10-minute shower wastes 50 gallons of water."
He came across a product similar to his idea of a water-recycling device while during research, but he did not step back. Oyon proceeded with the idea to work on the prototype. He conceptualized a better device to recycle and reuse water which drains away during a shower.
Oyon's device consists of three separate layers of gravel, sand and charcoal which water is filtered through before an attached storage tank collects it. Then the collected water is pumped back for reuse. The device has a little door so that the filter can easily be cleaned whenever it gets clogged over time.
Oyon Ganguli is looking forward with his plans for a future project which he has named "The Space Cleaner." The Space Cleaner is a solar-powered robot with two arms. It will melt space junk with one arm and vacuum up the melted materials with the other arm. One of his ambitions is to be an inventor.
The Mighty Minds Contest, one of the competitions for young American inventors, is jointly organized by the National Inventors Hall of Fame and Camp Invention, a youth educational summer camp.
Travel Beats is a digital news portal for Indians and NRIs by IndianEagle, a leading international organization booking travel from the US to India. It publishes the latest news and stories from India and USA.