"At the stroke of the midnight hour, when the world sleeps, India will awake to life and freedom" – Jawah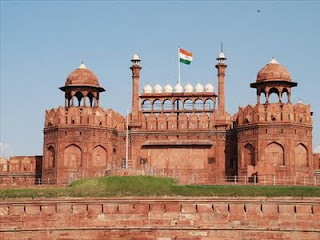 arlal Nehru
Commemorating the expression of freedom, most countries earmark a special day which is traced back to history. 15th August is specially celebrated as India's Day of Independence. Every year the capital city of India, Delhi gears up for the grand parade.
The Red Fort decorated with flags and buntings becomes the picture-perfect milieu for unfurling the National Flag by the Prime Minister. The Prime Minister's speeches and Patriotic themed tableau by school children adds color to the revelries.
Indian Eagle offers discounted fares to Delhi for your visit to the Red Fort. Chosen to host the momentous event, The Red Fort has stood as a silent spectator to crucial testimonials of India, under the British rule. Built on the banks of river Yamuna, the whole structure is made of Red stone.
The Red Fort was built in the 17th century by the Mughal King Shahjahan to serve as his palace when he his shifted capital to Shahjahanbad. Also known as "Lal Quila" the wall is 2.5 km in length, 16 meters on the river side to 33 meters towards the city.
Designated as a UNESCO World Heritage Site in 2007 the Red Fort is referred to as "Qila-i-Mubarak" (the blessed fort).Residence of the Royal family, planning and layout  techniques employed reflect Mughal creativity and architecture.
The three-storey Lahori Gate leads to the Chatta Chowk which sold gems, jewellery, carpets, silks, brocades and velvet for the royalties. The Swatantrata Sangram Sangrahalaya (Museum of Freedom Struggle) managed by the Archaeological Survey of India, exhibits photographs, paintings and maps focusing on the independence movement.
The fort has many galleries like the Mumtaz Mahal used by the royal princesses. It is converted into a museum which exhibits textiles, weapons, carpets, elaborately carved chess sets, metalwork and other items used in the royal court.
The Khas Mahal was the emperor's personal palace, with separate enclosures for praying, sleeping and sitting. The Tosh Khana or Robe Room has an exquisitely carved marble filigree screen with a Scale of Justice outlined in the screen.Diwan-i-Am, where the emperor entertained his people to find solutions to their problems. Diwan-i-Khas, where the Emperor discussed plans, strategies and secret meetings.
Apart from the magnificent Fort, a glimpse into the grandeur of the past is reflected in the halls, marble palaces, mosque, gardens, and plush apartments. Be mesmerized by the impressive red sandstone wall, huge bastions, and finest and intricate work on the walls of Red Fort. Just like our Lowest Airfares at Indianeagle.com for all your travel needs.