The 43rd International Film Festival of India (IFFI), Goa begins on Nov 20 amidst much fanfare. The first edition of IFFI was held by the Films Division of the Government of India in Mumbai. It was inaugurated by then Prime Minister Pt. Jawaharlal Nehru on 21 February 1952. Commemorating 100 Years of Indian Cinema the spirit of cinema and entertainment will be showcased in a different perspective.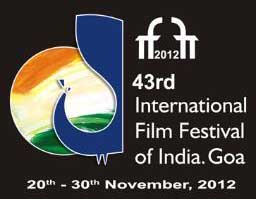 The festival's director, Shankar Mohan said, "100 years of Indian Cinema will be our major focus this year. Altogether 25 feature films and 56 documentaries will be screened during the festival. A special centenary award will also be presented to a chosen film which will carry a cash prize of 10 lakh."
Indian Panorama, another section that will focus on featuring films that reflect the real essence of India's cultural diversity. Impressive jury from across the film fraternity, the festival is set in the right locales of Pristine Goa.
Marathi film 'Deool', directed by Umesh Vinayak Kulkarni and the Byari language film 'Byari', directed by Suveeran that won the Best Feature Film for the year 2011 are the direct entrants into the feature section of the Panorama.
Other entries are 'Baandhon', directed by veteran filmmaker Jahnu Barua; 'Celluloid Man', directed by Shivendra Singh Dungarpur, 'And We Play On', directed by Parmod Purswane.
Another section titled "Country Focus" aims at creating the ethos of a nation. Turkey has been selected to mirror its socio-political scenario while touching upon the burning issues of modern Turkey.
The most awaited directorial venture of Oscar Award winner director Ang Lee's 'Life of Pi' will be the opening film of the festival.Mira Nair's 'The Reluctant Fundamentalist' will be the closing film, bringing the curtains down at the festival.
Speaking about the Indian Connect of both the opening and closing film at the IFFI, Festival director Shankar Mohan said, "The IFFI opening and closing movies this year have a deep India connection. The opening film 'Life of Pi' has been shot in Pondicherry, while 'The Reluctant Fundamentalist' has Indian filmmaker Mira Nair.
Goa is one place that doesn't require an excuse to visit. Anytime of the year, Goa has tourists pouring in to enjoy the perfect blend of ethnicity and contemporary lifestyle. Visit our site at IndianEagle.com to book Cheapest Airfares to Goa.