The most awaited festival, Ganesh Chaturthi is a favorite with all ages. Streets and alleys undergo a completed transformation during this season. The ambience is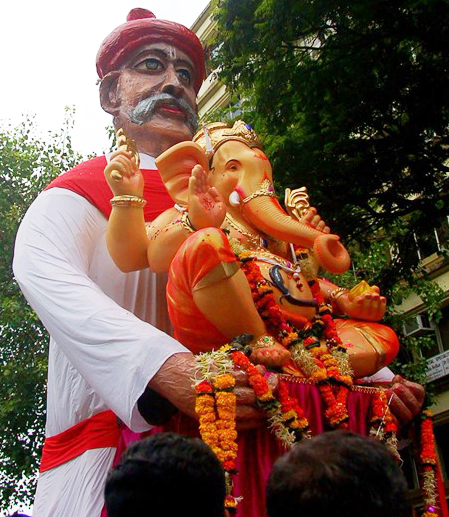 converted from mundane to festivities galore. Garlands made of marigold are used to decorate lavish pandals that extend way beyond the pavement.
Ganesha Chaturthi, also known as 'Vinayak Chaturthi' or 'Vinayaka Chavithi' is celebrated as the birthday of Lord Ganesha. Observed during the Hindu month of Bhadra, the 10 day festival ends on the day of 'Ananta Chaturdashi'.
History traces celebration of the festival as a public event during the reign of Shivaji (1630-80) the founder of the Maratha Empire. In1893, the festival was revived by Indian freedom fighter and social reformer Lokmanya Tilak. He turned the festivities into a public affair, while carrying the freedom movement forward, under the guise of celebrations.
Tilak carefully crafted the idea of a public gathering, to spread the message of "Struggle for Freedom" against the British Rule. He initiated installing large images in pavilions. Community participation was introduced with scope for intellectual discourses, poetry recitals, and performances of plays, musical concerts, and folk dances. This was discouraged by the British, who realized the meeting point was ideal for planning to execute rebellion and overthrow the British Raj. Tilak utilized the opportunity to spread the message of Freedom and kindle the spirit of Revolt against the British rule.
The tradition has continued Post Independence, meticulous planning goes into selecting theme, color and expanse of the stage. The essence of the festival is in gearing up for the contest, to win the recognition of best pandal. The competition becomes tough while the stakes are high. Every street is beautified to look its best. Streets are illuminated with colorful lights, revelries continue for 10 days with pooja and bhajans.
Idols made of Plaster of Paris are skillfully crafted to create a real life like impression. Different poses of Lord Ganesha are depicted in various avatars. Creativity is integrated into the theme which can range from films, politics, sports or current events.
The tradition continues till date. Pandals are inundated by people to see the largest statues that finds itself photographed, becoming the 'Talk of the Town'.