Whether it is a patriotic song, 'Ay mere pyare watan, ay mere bichhade chaman'; or a romantic number, 'Ye raat bheegi bheegi'; or a melancholy track, 'Laga chunari main daag'; or a humorous note, 'Ek chatur naar karke singar'; the only name that is identified with these evergreen songs in the history of Indian Cinema is Manna Dey who left the mortal world at the age of 94, last evening, in Bengaluru, India.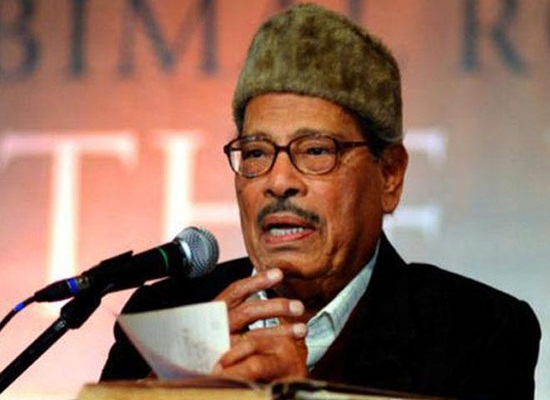 Referred to as the "King of Melody", Manna Dey belonged to the brigade of singers – Kishore Kumar, Mohammad Rafi, and Mukesh – whose names are eternally associated with the evolution of the Hindi film music industry from 1950s to 1970s. Indian Eagle pays tribute to the legendary artist, and rides the time machine back to the golden era when he was the voice of such big Bollywood stars as Raj Kapoor, Rajesh Khanna, and Dharmendra.
Born in Kolkata in 1919, Dey was a man of simple living and high thinking. One of the extraordinarily creative talents of Bengal, he started his playback singing career with a duet song, 'Jago Aayee Usha Ponchi Boley Jago' with Suraiya in the film Tamanna in 1942. Then there was no looking back, and he began to ride the waves of success with back-to-back songs composed by the then great music directors including Sachin Dev Burman, Salil Choudhury, Laxmikant Pyarelal, Kalyanji-Anandji, Shankar Jaikishan, and Rahul Dev Burman.
Dey was a genius in not only Hindi film music but also Hindustani Classical music, Ghajals, and fushion music. Ustad Aman Ali Khan and Ustad Abdul Rahman Khan had initiated him into Hindustani Classical music. His passion for experimentation with western music led him to blend Indian Classical music and pop music to create an enchanting fusion in Bollywood. His tryst with Ghazals evolved in 1953.
The enchanting quality of his multidimensional voice needs no mention. It is evident from the soulfulness of such heart-warming songs as 'Zindgi kaisi hai paheli' in Anand, 'Pyar hua ikrar hua' in Shri 420, 'Yeh raat bheegi bheegi' in Chori Chori, 'Kasme vaade pyar wafa' in Upkaar, 'Ae meri zohra jabeen' in Waqt, 'Tere bina aag yeh chandni' in Aawara, and likes. The duet song with Lata Mangeshkar, 'Pyar hua ikrar hua' featuring Raj Kapoor and Nargis under an umbrella on a rainy night in the movie Shri 420 still tops the list of Bollywood romantic songs.
The songs like 'Yeh dosti hum nahi' in Sholay, 'Yari hain iman mera' in Zanjeer, 'Tum besahara ho to' in Anurodh, and 'Aey bhai zara dekh ke chalo' in Mera Naam Joker which he lent his voice to, are among the chartbusters which have been hummed by generations of music and movie buffs. His rich and varied music repertoire is a collection of over 4,000 songs.
Ask Bengalis what connects them with Manna Dey? It is the song, 'Coffee houser sei adda ta aar nei', dedicated to the Coffee House at College Street in Kolkata, where the history of the Naxalite Movement in Bengal is alive, even today. Hindi and Bengali apart, he contributed his voice to the songs in several other languages including Marathi, Punjabi, Gujarati, Oriya, Assamese, Kannada and Bhojpuri.
Manna Dey's voice was so versatile and dynamic that it is difficult to categorize him into a particular class of singers, and associate him with a specific genre of music. His romantic ballads, ghazals, qawwalis, fusion music, classical songs, and devotional songs are equally excellent. Such an extraordinary talent that he was born and blessed with brought him several prestigious awards: National Film Award, Filmfare Award, Padma Shri, Padma Bhushan, Lata Mangeshkar Award, and Dada Saheb Phalke Award.
"Jiboner Jalsaghorey" is Manna Dey's autobiography in Bengali. "Memories Come Alive" is the English version, and "Yaden Jee Uthi" is the Hindi version of the autobiography.
"An artist may die, but not his art. The melody of his songs will be mesmerizing generations as long as music is alive," Indian Eagle.