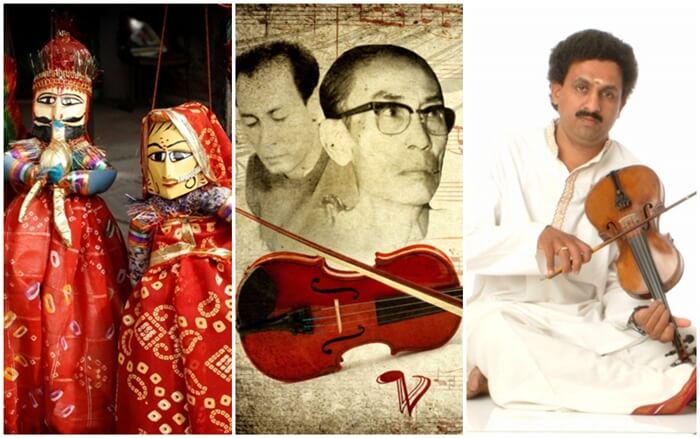 Gaata Rahe Mera Dil: The Iconic Melody of Sachin Dev Burman
Legendary Indian music composer Sachin Dev Burman's (S D Burman) soulful melodies will fill the hearts of Indians in and around Atlanta on November 3, 2017. Named after one of the popular songs composed by him, the event Gaata Rahe Mera Dil has made it to the top of our list of Indian events in Atlanta in November 2017. The event will feature a narration by renowned theater director Salim Arif. Popular Indian singers – Swarada Godbole, Vibhavari Joshi, Jitendra Abhyankar and Hrishikesh Ranade – will sing the evergreen melodies from SD Burman's repertoire.
CAMAGA Carnatic Concert
Among the upcoming Atlanta Indian events in November 2017, CAMAGA Carnatic Concert on November 4 will surely click with Desis in Atlanta. Young Carnatic vocalist Aditya Narayan, eminent violinist V V Ravi and Mridangam expert Mannarkoli Balaji are coming together to mesmerize the audience with their musical talent at the concert. A non-profit organization in Atlanta, Carnatic Music Association of Georgia (CAMAGA) strives to promote and preserve Carnatic music in Georgia.

Blue Spirit Wheel at Johns Creek Yoga
November seems a month of music for Indians in Georgia. A distinct departure from regular concerts, Blue Spirit Wheel at Johns Creek Yoga will present a mélange of music, yoga and mantras on November 4. Of all the November 2017 events for Atlanta Indians, Blue Spirit Wheel at Johns Creek Yoga promises to get you into a meditative trance over soothing music, Sanskrit mantras and rhythmic dance. The performance will range from rock to jazz to Indian classical music.
RAJA Diwali Milan
Norcross Indians will have double Diwali dhamaka this year! One of the best Diwali 2017 events in USA, RAJA Diwali Milan on November 4 offers a unique chance for Desis in Norcross to celebrate the Festival of Lights twice. It is listed among the grandest Indian events in Atlanta in November 2017 for enthralling cultural programs and dazzling fireworks. You can also have a tryst with Indian arts as RAJA Diwali Milan in Norcross will have a spectacular art exhibition.

Ek Shaam Raksha Ke Naam
Raksha Inc.'s Ek Shaam Rakhsa Ke Naam on November 10 is an opportunity for Atlanta Indians to show their support towards ending domestic and sexual violence against women. 'SHE' founder Junior Gupta will give a motivating keynote speech which will be followed by several activists' voice about women's rights to dignity in society. The evening will witness captivating Indian music by a live band and culminate in delicious dinner.
Shaam-E-Sangeet in Norcross
Apart from socializing with other Desis, you can attend a fundraising music concert and contribute to a great cause in November 2017. On our list of Indian events in Atlanta in November 2017, Shaam-E-Sangeet in Norcross is a fundraising music program aiming to help NGO Ekal Foundation raise fund for its single-teacher schools in rural India. Several Indian celebrities including Saras Jain, Pankaj Bhargava, Asawari Joshi, Shivprasad Kotagal and Indrani Danave will get together on stage to support the campaign through entertainment.

Aakar Puppet Theater Workshop
If you take pleasure in storytelling, the Aakar Puppet Theater Workshop is just for you. Among all events for Atlanta Indians in November 2017, it will take you to the era of traditional storytelling through puppetry. Eminent puppeteer Puran Bhat will share the nuances of puppetry and depict the sagas of ancient India with modern interpretations at the workshop. It will be an altogether different event for Indians in and around Atlanta to bid adieu to November 2017.
Travel Beats, a leading Indian American community magazine by Indian Eagle, publishes the latest travel, tourism, visa, immigration and community news. Indian Eagle is a trusted travel partner of Indians in USA for issuing cheap air tickets to India from Atlanta and other cities in Georgia.