History repeats itself. Celebrating Air India's homecoming to its actual owner and paying tribute to JRD Tata who made India's dream of flying come true, 23-year-old Aarohi Pandit re-enacted the undivided India's first commercial flight this October 15. On a fine morning of the same date in 1932, JRD Tata, a passionate aviator and visionary, piloted the first commercial flight from Karachi to Bombay, carrying 25kg of airmail and inducting India (undivided then) into aviation. He was just 28 back then.
Captain Aarohi Pandit, who became the world's first woman and youngest pilot to operate a light-weight aircraft solo over the Atlantic Ocean and the Pacific Ocean in 2019, took up the challenge of re-enacting what had marked the dawn of aviation in India. Born in Gujarat and brought up in Maharashtra, she has created four world records in flying over precarious regions.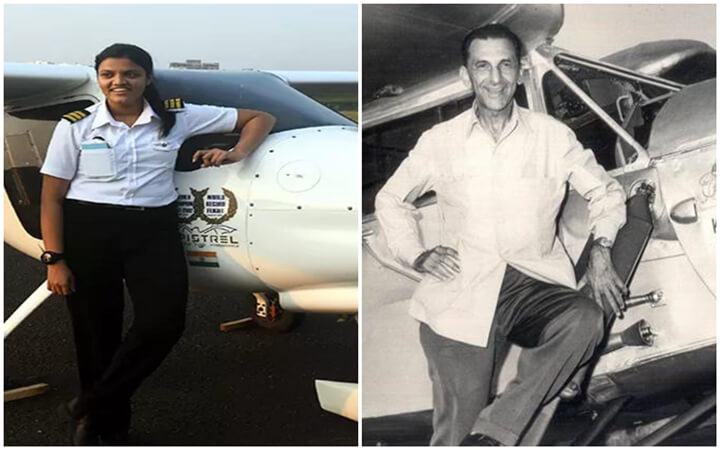 Re-enacting history was not easy for Captain Aarohi Pandit. In the present era of topnotch aviation technology, she navigated the aircraft without GPS, autopilot system, or computerized equipment. She managed to fly 7000 feet above the sea level from Kutch to Juhu, India's first civil airport in Mumbai. She flew over the 500 nautical miles (one nautical mile is 1.852 kilometers), with less than 60 liters of petrol in her Mahi VT NBF, a Pipistrel Sinus that weighs only 330 kg.
She chose to take off from the Bhuj runway in Kutch for a very historic reason. The take-off of her flight from the Bhuj airstrip is a salute to the brave women from Madhapar, a nearby village, who had rebuilt the damaged airstrip, with no formal training but sheer patriotism, in only 72 hours for the Indian Air Force's counter-attack on Pakistan's fighter aircraft during the 1971 Indo-Pak war. 300 brave-hearted and iron-willed women stepped out of the threshold to execute an impossible task amid aerial bombings. Below is a detailed post about the women who played a pivotal role in determining the fate of the 1971 war.
On the flight that she operated on October 15, 2021 re-enacting the first commercial flight, Aarohi carried a special letter from the women of Madhapar village – which is symbolic of the 25-kg airmail that JRD Tata carried on his flight. She was touched by the amicable nature of the Madhapar women who are grandmothers now.
The Madhapur women's letter reads, "To reach for the skies, you must start by building your runway – simply, honestly, with hard work, with no time wasted, using the resources you have within and around you. You may never fly on that runway you build, but you will change the lives of the million who use it, and that is the truest sky of all that you must reach."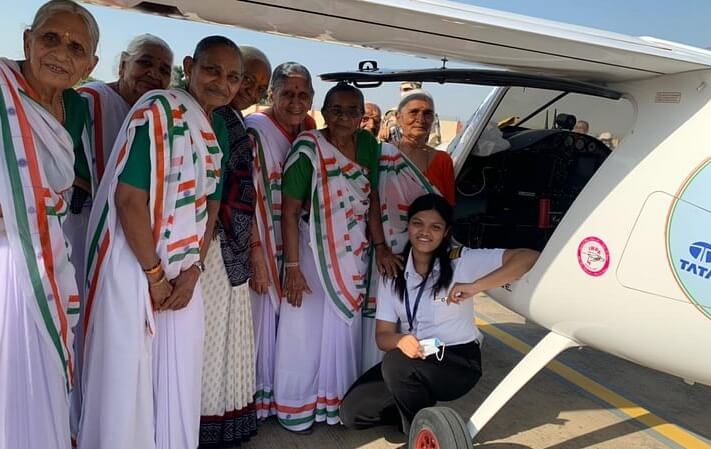 Her arrival was a spectacular experience at Juhu. When she landed, she was given a traditional water salute and welcomed by member of the Indian Women's Pilot Association (IWPA) dressed in pink.
Captain Aarohi Pandit feels empowered when she steps into the cockpit and takes control of aircraft. This is what enables her to break barriers and set new records. In 2018, she embarked on a most challenging expedition to circumnavigate the earth in her light-sport aircraft. She flew through Punjab, Rajasthan, Gujarat, Pakistan, Iran, Turkey, Serbia, Slovenia, Germany, France, Britain, and beyond.
"Nobody is born a pilot; you have to work hard. Keep on reading and learning. When I got into aviation, I was the first in my family to join the profession. Be physically and mentally fit and take advantage of the wealth of information out there," Aarohi says.