Have you marked your calendar to attend the Kumbh Mela at Allahabad? If you haven't yet booked your tickets,  Indian Eagle offers Cheapest Airfares to Allahabad.The Maha (great) Kumbh Mela which comes after every 12 years is expected to bring pilgrims and tourists together.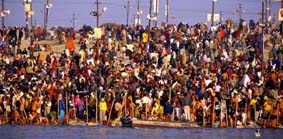 A mass Hindu pilgrimage, the gathering at the Ganges, river Godavari and river Kshipra is meant for bathing considered for purification of one's sin.Kumbh Mela is celebrated based on the number of years.
The Ardh (half) Kumbh Mela, celebrated every six years at Haridwar and Allahabad is marked by attendance of piligrims in thousands.
The Purna (complete) Kumbh takes place every twelve years at four places Allahabad, Haridwar, Ujjain, and Nashik.
The rare Maha (great) Kumbh Mela is the most waited which happens after 12 'Purna Kumbh Melas', or 144 years, held at Allahabad.This largest religious gathering takes place on the banks of the 'Sangam'- the confluence of the holy rivers Ganga, Yamuna and the mythical Saraswati.
The belief is one has to take a Holy dip in one lifetime to fill the spiritual void. The dip during the auspicious bathing days assures on of salvation, a freedom from the cycle of birth and death. Saints and priests rub shoulders with the common man.The exchange of knowledge and Yoga practices are a common sight during the Mela.
A temporary township is set up to accommodate the influx of visitors and devotees. Foreigners will be a common site, tyring to get a grip of the fervor.
The literal meaning of Kumbh is a pitcher which is an integral part of all sacred and religious practices. Scriptures symbolize pitcher, with its mouth (opening) symbolizes the presence of Lord Vishnu. The neck is represented as Rudra and base as Brahama.
The Kumbh festival is a life changing experience from the regular demands of everyday life. Take a pilgrimage to Allahabad for a spiritual experience.Book tickets at www.indianeagle.com for a hassle free travel.