For the first time, the biggest Tricolor will be unfurled this August 15 thousands of miles away from India. In continuation of the tradition that was set through the first-ever hoisting of the Indian flag at the iconic Times Square amid the pandemic-induced lockdown curbs in 2020, a leading Indian diaspora organization has bigger plans for the 75th Independence Day celebration. Notably, this is the biggest of all Indian events in New York in August 2021.
The Federation of Indian Associations, a tri-state diaspora group of New York, New Jersey and Connecticut, will commemorate the 75th Indian Independence Day with hoisting of the biggest Tricolor (6 feet by 10 feet) at Times Square on August 15. Interestingly, 25ft is the height of the pole where the flag will be waiving from.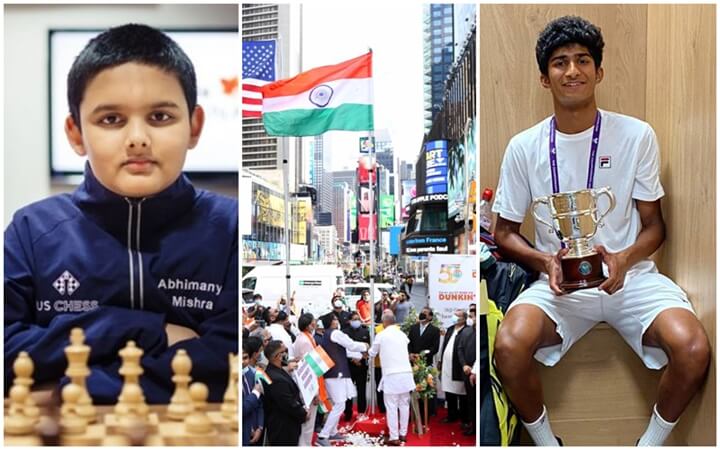 Indians in and around New York will be basking in pride and patriotism during the day-long celebrations that will culminate with a gala cruise on the Hudson River. In a first, Times Square will see a giant billboard exhibiting the Indian Day for 24 hours. Like previous years, the Empire State building will be illuminated in the symbolic hues of the Tricolor and fire up Indian-origin people's zest for the celebration. Randhir Jaiswal, the Consul General of India in New York, will unfurl the Tricolor as the guest of honor.
Interestingly, two young achievers of Indian origin will be felicitated as part of the 75th Independence Day celebrations in New York. They are sporting icons from New Jersey: 12-year-old Abhimanyu Mishra, a chess prodigy, and 17-year-old Samir Banerjee who won Wimbledon Boy's singles title in July this year. Abhimanyu Mishra broke a 19-year-old Chess record and became the youngest Grandmaster, the highest title conferred on a player, in the history of chess.
In commemoration of the 75th Independence Day, the Federation of Indian Associations (FIA) is launching a campaign titled 'Unified Diaspora in America'. "When India turns 75, we have to bridge the gap and unify the community. Our goal is a unified community. We have to be the force in action," said Ankur Vaidya, the FIA Chairman. He opines as the world is grappling with the emerging variants of the novel coronavirus, "India and the US – the world's oldest and largest democracies – should have the most vital relationship for global growth and progress".
New York's India Day Parade, one of the best Indian Independence Day celebrations in the US, is a hallmark event that the Federation of Indian Associations organizes every year. The India Day Parade continues to be suspended for the second year in view of the pandemic.