Kids from the Indian community in America are back with a bang. Nine Indian-origin kids, among 11 spellers, have made it to the 2021 Scripps National Spelling Bee finals scheduled on July 8. Winning this prestigious competition has been a hallmark of their Indian American spellers' consistent success. They have been donning the champion's hat in the spelling bee competitions for two decades. Notably, 17 out of the 21 champions of the Scripps National Bee contests held from 1999 to 2016 were from the Indian community in the US. Seven of the 8 co-champions of the competition held in 2019 were of Indian origin.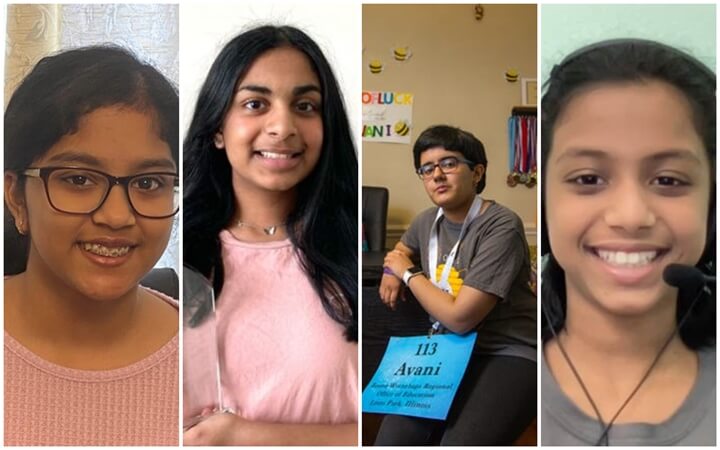 Selected through the three virtual rounds of the competition, including the semifinals on June 27, the eleven finalists will compete for the most coveted trophy. The nine Indian-origin spellers among them are:
Chaitra Thummala, 12, from San Francisco
Ashrita Gandhari, 14, from Leesburg, Virginia
Sreethan Gajula, 14, from Charlotte, North Carolina
Avani Joshi, 13, from Loves Park, Illinois
Bhavana Madini, 13, from New York
Akshainie Kamma, 13, from Austin, Texas
Dhroov Bharatia, 12, from Dallas, Texas
Vihaan Sibal, 12, from Waco, Texas
Vivinsha Veduru, 10, from Fort Worth, Texas
Indian-origin kids' record-breaking success in the Scripps National Spelling Bee has raised many eyebrows in surprise and doubt. It also invited two journalists from Business Insider Films to shoot a documentary decoding what makes them extraordinary spellers. Breaking the Bee, a critically acclaimed documentary on Indian American spellers, silenced all the questioning minds, dispelled the frowned foreheads and countered the raised fingers. It focused on the Indian-origin spelling bee champions' family life, study habits, daily regime, cultural background, passion and zeal to discover the reasons for their winning performance, one of which being their bilingual proficiency. The feature-length documentary had a special screening at New York Indian Film Festival in 2018.
Elucidating on what makes the first-generation Indian American kids outshine others in spelling bee contests, 14-year-old Sreethan Gajula from Charlotte said that he went through the dictionary page by page, studied word stems and memorized linguistic rules while staying indoors during the pandemic. Visualizing every word by writing it out on his palm is one of the secrets to his being an accomplished speller. This ninth grader is an aspiring environmentalist.
There will be live broadcast (8 p.m. ET) of the Scripps National Spelling Bee finals at the ESPN Wide World of Sports Complex at the Walt Disney World Resort in Orlando, Florida. The 2021 Scripps National Spelling Bee championship winner will receive a trophy, a medal, a $50,000 cash prize, and many other prizes.