The 15th annual New York Indian Film Festival which kicked off promisingly on May 4 ended up announcing the winners of the year 2015, yesterday. NYIFF is one of the prestigious New York City events. The 15th edition of this South Asian Film Fest in the United States screened 50 feature films, short films and documentaries of South Asian filmmakers and actors.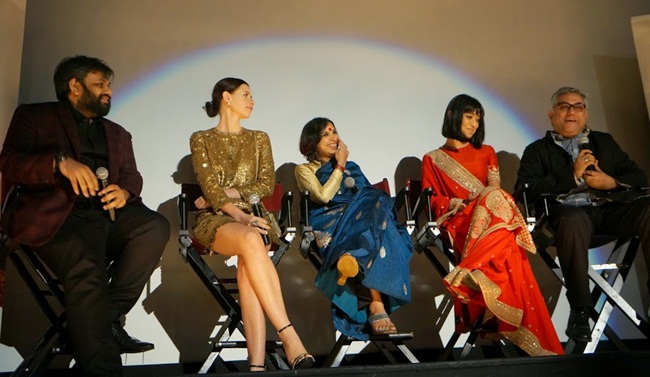 The winners of the New York Indian Film Festival 2015 are Aditya Vikram Sengupta's Labour of Love, Shonali Bose's Margarita with a Straw, Vibha Bakshi's Daughters of Mother India, Manoj Nitharwal's Seek & Hide, and Haramkhor.
Filmmaker Aditya Vikram Sengupta bagged three awards for his directorial Labour of Love in the Best Film, Best Director and Best Screenplay categories at the 15th NYIFF. Labour of Love is a take on how marriage that unifies two souls into one entity has been reduced to a mere event under pressure of a spiraling recession.
Margarita with a Straw by Indian American filmmaker Shonali Bose fetched the Best Actress award to Kalki Koechlin, who played the protagonist, a victim of cerebral palsy with aspirations to live life beyond limits and pent-up sexual desires. Margarita with a Straw depicting the journey of a differently abled woman's self-discovery was the opening movie at the New York Indian Film Festival 2015.
Indian American journalist cum filmmaker Vibha Bakshi won the Best Documentary Film award for her Daughters of Mother India. The documentary, a journey in quest of gender equality for women through the aftermath of the brutal gang rape and murder of a 23-year-old medical intern in Delhi in 2012, is honored with the National Film Award 2015 for Best Film on Social Issues. Vibha Bakshi has the documentaries – Terror at Home, and Too Hot Not to Handle to her credit.
Nawazuddin Siddiqui bagged the Best Actor award for his dynamite performance in Haramkhor produced by Anurag Kashyap. The story of the movie, based in Gujarat, revolves around a school teacher and one of his students. Nawazuddin Siddiqui played the school teacher in this relationship story.
The festival was graced by a galaxy of glitterati such as Vishal Bhardwaj, Hansal Mehta, Shonali Bose, Kavita Krishnamurthy, Vibha Bakshi, Mohan Agashe, Anant Mahadevan, and Kalki Koechlin at Paris Theatre in New York City.
About NYIFF
The New York Indian Film Festival is the most prestigious South Indian Film Fest in the USA, hosting premiers of feature films, short films and documentaries about and from in the Indian Subcontinent. It promotes Indian Cinema in the American media, connects with the Indian diaspora in New York and adds to the cultural diversity of the USA.
About Indian Eagle
Indian Eagle Travel is a leading USA based international organization promoting Indian destinations & cultural heritage through interesting stories on Travel Beats and inspiring Indian Americans & American tourists to visit India.