Time-consuming Visa Process has always played spoilsport for travel enthusiasts. Planning for a trip is always uncertain, until the Visa is stamped. The tedious protocol involved has discouraged many a globetrotter, from hopping on to a plane, at the spur of the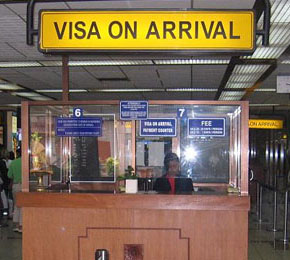 moment.
Pack your bags to any of these destinations for Cheapest Online Air tickets.Visa on Arrival to Indians with simplified booking process, Indian Eagle will ensure you have a well-deserved vacation. Indian Eagle lists out the top 10 destinations that come with a hassle-free visa experience.
1  Kenya : The Kenyan Tourism Board offers  Visa on Arrival (VOA) to Kenya for a stay of 3 months at $50. If you are enamored by the place, extend your stay for another 3 months. Relevant documents, sufficient monetary back-up to move to the next destination, explore Kenya at your own pace.
2  Madagascar: Eden Garden on earth, Madagascar boasts of variety of flora and fauna, found nowhere else in the world. A 30 day visa, free of any charge is issued for Indians at the Madagascar's international Antananarivo airport. If you need more time to soak into the beauty, a 90 day multiple entry visa will cost you $84.00.
3  Seychelles : Pristine Beaches, island country with a cluster of 115 islands in the Indian Ocean. Of course it's Seychelles. Visa on arrival, free of charge,1 month validity. Extend your stay to three months from the date of issue, if you haven't covered the islands. Return ticket, proof of accommodation and sufficient money for your stay, go ahead and collect memories!
4   Antarctica : Surprised? Part of no country, visa not required. Nonetheless, permit to enter requires visas for destinations enroute that you stop at, and money for your stay. Most Antarctica flights depart from either Argentina or Chile, passports has to be shown in either country.
5   Hong Kong:  Fastest growing with a potential sector for growth. 14-day entry stamp, free of charge at Hong Kong airport for Indians. Evidence of sufficient funds, confirmed flight tickets, enjoy Hong Kong.
6   Maldives: Indians can obtain a VOA for 90 days at Maldives, free of charge. Confirmed return/onward tickets with Hotel Reservation, you are all set to frolic on the beaches of Maldives.
7    Nepal: Mountainous terrains that are just across the border. Nepal is accessible with a single entry, visa on arrival for Indian citizens for upto 150 days.
8   Thailand : For any foreign citizen, a visa approved by the Royal Thai Embassy or a Royal Thai Consulate-General is required to enter the Kingdom of Thailand .However, Indians can obtain VOA for US$ 35 for a stay of 15-30 days.
9   Turkey: VOA is avaiable for Indians having visa issued by UK, USA or a Schengen Country for $20. Picture perfect sceneries, white-sand beaches and towering mountains, Can you ask for more?
10   El Salvador : Purchase a tourist card for $10, stay for 3 months. VOA for Indians also includes Guatemala, Honduras and Nicaragua  along with El Salvador . That's 4 places in I go, do you require any further persuasion?
Book Now with Indian Eagle at Lowest Airfare Guaranteed!