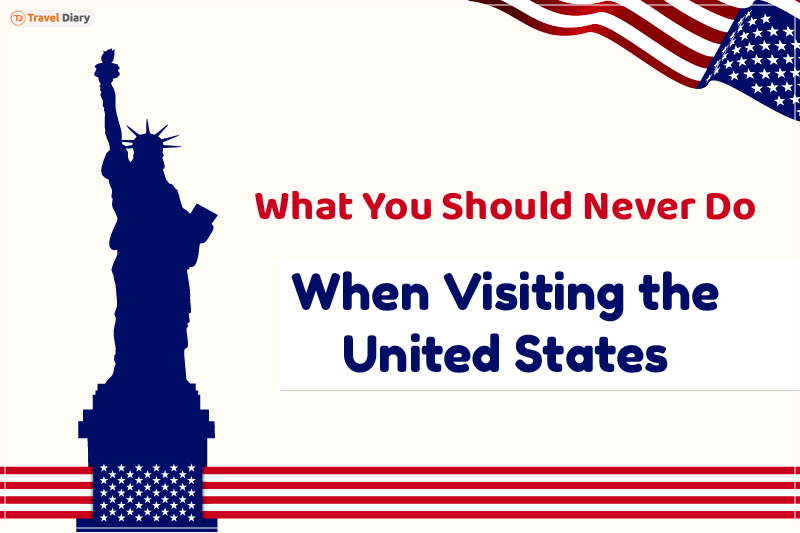 Every year, millions of people visit the United States of America to experience its distinctiveness. The country is known for its vibrant culture, exotic cuisine, chaotic streets, and famous shopping places. There are too many things to explore in the States. However, there are certain rules that everyone should follow while roaming in the US. To make your trip to the US a success, we have curated the list of things you should never do in the USA.
Things Not to Do When Visiting USA
Never Drink & Drive
One of the most important things to keep in mind while traveling to USA is never to drink and drive. While drinking and driving are banned all over the world, the states have very strict rules against this offense. There are different limitations and regulations on drunk driving. In the USA, Drivers 21 years or older are prohibited from driving with a blood alcohol concentration over 0.08%. For drivers under 21 years old, the legal limit ranges from 0.00 to 0.02%. Violation of this rule requires either jail time or larger fines or both, depending on your crime.
Public Smoking is Prohibited
The United States of America runs on the philosophy that everyone has the right to breathe fresh air. Therefore, public smoking is banned in many areas of the state. In addition and to support this vision, many workplaces and offices have started running smoke-free. So, if you smoke freely in your country, think twice before doing the same in the USA. You might also get penalized in such situations. 
Don't Interfere in Their Personal Space
Interfering in personal space tops the list of things not to do in USA. Americans are very specific about their comfort zone and personal space. They don't like when strangers push into their comfort zone. They follow their ways to avoid strangers like they start checking their phones or pretending that they haven't seen you, etc. Though your intentions are good, peeping into their world without their permission can change the way of your interaction. Thus, never talk to them in the toilets, avoid stopping cars beside them during a red light, and keep your eyes on yourself only. These are some things you should never do in the USA. 
Also Read: 12 Best Places to Visit in the USA
Never Compare Your Country & Customs to the USA 
Whether you are visiting the US for traveling purposes or for settling there, never compare your country and customs with Americans. Americans are very touchy about their country. They feel that their country is top-notch. Thus, if you want to make friends there, not enemies, it's better not to compare your traditions with theirs. No doubt you can share your customs and experiences with them. Better not to make any comparisons. You might face a strong reaction asking you to go back to your country. Thus, after taking India to USA flights, it's better to accept American culture and try to mingle with it. 
Don't Explain Football to Americans
Americans are very emotional when it comes to different sports, especially football. American football is one of the most popular and most-watched sports in the US. From high school and college to international arenas, everybody in the States plays football. Football is a crucial part of American culture. Thus, never lecture anything regarding football in front of the American people. 
These are some necessary things you should never do in the USA, especially when you are traveling alone. If you are visiting the States for the first time, you need to learn about what not to do in America. These tips might help you enjoy your stay even better. 
If you are wondering how to book flights for cheap? Visit IndianEagle.com. It is a renowned online ticketing agency that offers international flights between India and the US at the best prices. Indian Eagle flights are the best for people searching for low-cost airlines and luxury itineraries. You can find several deals and offers on this trusted agency. Currently, it is providing Mother's Day flight offers. You can use the promo code MOTHERSDAYTD25 and save $25 on your upcoming itinerary. 
Frequently Asked Questions
What not to do in American culture?
Though America is a very welcoming country, there are certain things to know before visiting America. The list of what not to do in America contains Drink and Drive, Public Smoking, Getting into Personal Space, Not Tipping, Racist Jokes, etc. 
How to behave in America?
America doesn't restrict you from being yourself. However, you should avoid certain things in the US such as comparing their customs with yours, driving while drinking, avoiding tipping, etc. 
What are things that the USA is best at?
The United States of America is one of the most powerful countries in the world. The US is the best at computers, vehicles, chemical products, military equipment, and more.
What are the do's and don'ts in USA?
When it comes to dos, you can do anything in the States without violating the law. However when it comes to the list of don'ts in the USA, it contains Never Drink & Drive, Never Compare Your Country with the USA, Don't Explain Football to Americans, etc.