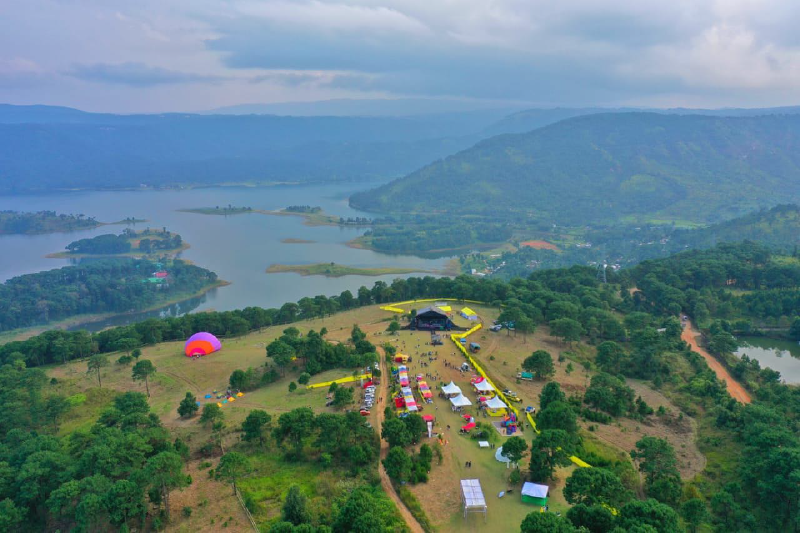 The Hills Festival, Meghalaya – the annual music, food, and cultural festival of the state – will happen in Shillong on the 4th and 5th of November this year. As the cloudy skies start clearing up to welcome the post-monsoon season to the Abode of Clouds, the locals gear up for many cultural celebrations, including the annual Hills Festival. 
Hosted amidst the refreshing green environs of the Umbir Village, the Hills Festival celebrations involve music, food, and a variety of recreational activities such as cycling and camping. The two-day event, organized by the HYPE Meghalaya with support from the state government, is all set to enthrall visitors with amazing performances from Indian as well as a few international musical bands. The artist line-up for Hills Festival 2022 consists of Bloodywood (Indian metal band), Taba Chake (finger-style guitarist and singer-songwriter), HanuMankind (lyrical rapper), Yung Raja (rapper and songwriter) and Karan Kanchan (music producer) among others. 
Apart from music, there are mouth-watering local delicacies on offer at the Food Pavilion, which also boasts of a 'Forage Aisle' featuring indigenous forage and locally produced wild edibles. Among the many highlights of the Hills Festival are cycling tracks running through the quaint locales of the Umbir Village and camping opportunities that allow you to enjoy a memorable stay amidst pristine nature. For travelers visiting with kids, a PlayCare section will be available to attend to their kids' needs. 
The most interesting aspect of the Hills Festival, Meghalaya, is its environment-friendly nature. Right from the venue setup to the art installations, all decorations and arrangements will be made using eco-friendly materials, including recycled and repurposed stuff. Moreover, RO water stations and biodegradable service ware will also be installed to ensure effective waste management at the event. 
Get ready to celebrate the 'Spirit of Meghalaya' (theme of the Hills Festival 2022) this November! Plan your trip to this beautiful northeast Indian state soon and book flights in advance to get the cheapest tickets. Avail Indian Eagle deals on international flights to India and save more!