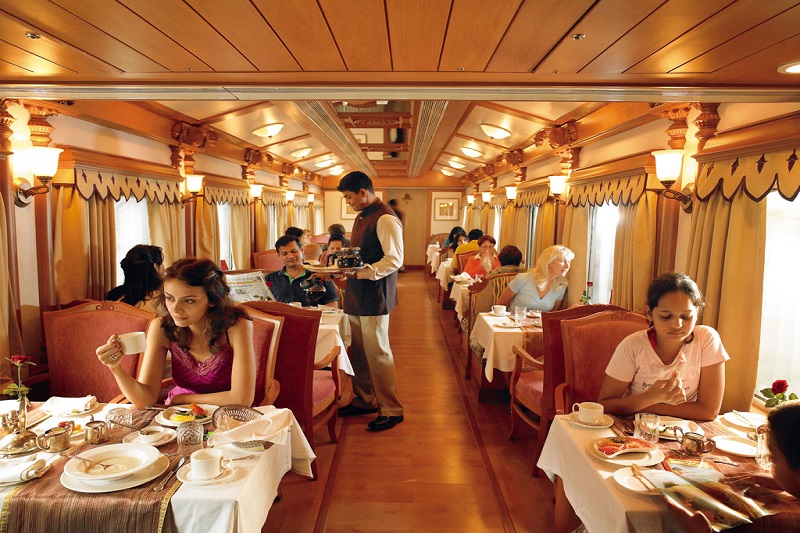 Home to opulent heritage hotels, grand palaces, forts, havelis, and magical lakes; Rajasthan – the royal state of India – has innumerable lavish experiences on offer to tourists. A star attraction for luxury travelers booking flights to this Indian state for an indulgent holiday is the train journey on the iconic 'Palace on Wheels'. This luxury tourist train, equipped with all modern comforts and amenities, treats you like royalty during the eight-day journey covering some of the most popular tourist destinations in and around Rajasthan. It offers an all-inclusive vacation; sorting out all your travel arrangements including accommodation, dining, transportation, and sightseeing. 
Get ready to bask in this royal experience once again! The 'Palace of Wheels' is back on track after a two-year hiatus in the wake of the COVID-19 pandemic. The Rajasthan Tourism Development Corporation (RTDC) got into an agreement with Indian Railways to resume the operation of this luxury tourist train. Rajasthan Chief Minister Ashok Gehlot flagged off the 'Palace on Wheels' at Gandhinagar Railway Station in Jaipur on 8th October for a three-day inaugural tour. 
Within just a few days of its resumption, it started receiving overwhelming response from travelers, noted RTDC. This luxury train set out on its first journey post resumption on October 12. It departs from Delhi and chugs its way through Jaipur, Jodhpur, Udaipur, Chittorgarh, Jaisalmer, Bharatpur, and Agra before coming to halt at Delhi. 
First introduced in 1982, the Palace on Wheels redefined the luxury experiences of India during its service of nearly 40 years until its suspended in 2020 due to the pandemic. It enthralled the royals including the Viceroy of British India, the Nizam of Hyderabad, and the rulers of the princely states of Gujarat. 
Also read: Rajasthan Tour
What to expect on the 'Palace on Wheels'?
Equipped with 14 air-conditioned coaches, the Palace on Wheels can accommodate up to 82 passengers. Its 39 deluxe cabins and 2 super deluxe cabins are complete with lavish furnishings, state-of-the-art facilities, and exquisite interiors reflecting the royal heritage of Rajasthan. 
Expect royal treatment during your journey spanning eight days and seven nights in one of the famous luxury trains in India. Enjoy access to Wifi, music channels, a fully-stocked pantry, spa, bar, gym, saloon, and more. A personal butler (khidmatgars) is also appointed to attend to you. 
Get aboard the Palace on Wheels to discover Rajasthan like never before! The ticket price starts at $580 per person per night and varies for deluxe cabins. International travelers can book flights to Delhi, and catch this luxury train from here for an incredible journey.