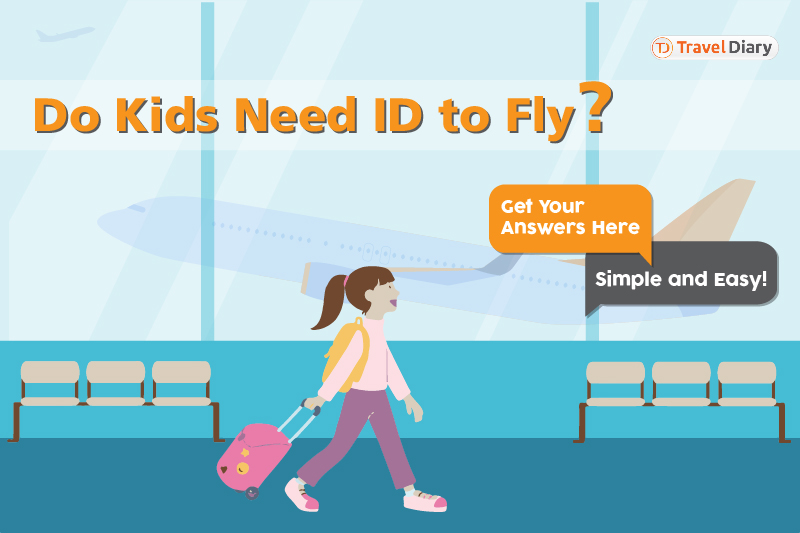 Preparing the family for a major vacation can be extremely exciting, but also a little worrying. Even if just for a week, the very prospect of putting your little ones on a plane can bring tension. The rules can be very confusing and exhausting to read.
You might be having a lot of questions for which you cannot definite answers:
"Does my child need an ID to fly?"—this is the question most parents have, especially when they have never flown with their children before.
So, here are compiled some simple and easy to understand that hopefully answers the question.
When is an ID Not Required for a Child While Traveling?
On domestic flights, minors below the age of 18 years do not have to show any ID confirmation to the aircraft when they are going with a grown-up. The aircraft will acknowledge substantial ID from the grown-up companion for the benefit of the minor.
In case of unaccompanied minors, the vast majority of aircrafts do not require minors to show confirmation of an ID. However, grown-ups going with them on their flight need to produce a legitimate ID proof.
When is an ID Not Required for a Child While Traveling?
While flying across international borders with minors, airlines generally request that a legitimate distinguishing proof document for minors younger than 18 years of age, regardless of whether they are going with both their parents.
Minors flying internationally with one parent or instructor or grandparents or even alone, airlines are a bit firm about providing a proof documentation. The minors should introduce a couple of ID evidences and an consent form.
Also Read: Top 9 Family Travel Safety Tips: How to Keep Kids Safe When Traveling
What Kind of IDs are Required for a Child While Traveling?
Now, you might be wondering what kind of IDs a child would be asked. A birth certificate? But that's hardly an ID proof or a proof of consent that he or she or they are allowed to travel. So, what ID do kids need to fly?
Let's see what is required during a domestic travel.
According to the TSA ID rules for minors, it is not compulsory to display any recognizable proof records when youngsters, between the ages of 2 and 18 years, travel within the country with an adult companion. On the other hand, the adult will be required to give a legitimate ID proof, a government provided ID proof, such as a passport, a driver's permit, and a government supported retirement card.
Babies younger than 2 years of age are permitted to fly without their own flight tickets, as they do not require to have a seat. After the age of 2 years, they will be required to buy their own flight ticket. As per TSA, it is not expected to have ID verification of baby while flying with parents. However, at the hour of registration at the air terminal, airline staff might request to show the ID proof of a newborn child, which would be their birth certificate.
In case you want to fly with an infant under 14 days old, then you should contact the respected airline to ask what documents to carry. Some might require to see a formal doctor's statement saying that the child is fit to fly.
When coming to international travel, according to the TSA ID rules for minors to fly, every child, irrespective of their age, are required to carry a legitimate passport provided by the government.
Ensure that the passport photograph is according to the prerequisites set by the US State Department. It ought to be of ideal size with an amazing foundation and stance. Look at the spots you can get identification photographs close to you here.
Like with anybody else, if the minors are flying to a specific country, they need a visa from that particular country. For instance, if they are planning to travel to India from USA, then they need an Indian visa.
So, do kids need ID to fly? It is safe to conclude that while traveling, kids generally do not need an ID to fly and while flying internationally, they will require one, irrespective of their ages.