Latest California News: Atmospheric rivers predicted to shower relief on drought-stricken California are proving to be as threatening as any other natural disasters that have been wreaking havoc on California for some years now.
The largest US state was still reeling from the catastrophic events of raging wildfires and severe droughts (worsened by climatic changes) when a massive bomb cyclone and an intense atmospheric river barged into Northern California yesterday, unleashing their power on the Bay area.
While the much-needed rains brought about by California's atmospheric river soaked the parched lands and provided respite to the state by putting an end to the prolonged dry spell and wildfire season, the relief was only short-lived as the storm turned savage, leaving vulnerable areas (like burn scars) prone to the dangers of mudslides, flash flooding, and debris flows.
The (level 5 out of 5) atmospheric river storm that swept off the Pacific Coast making its way into the state plagued northern and central California as the torrential rainfall and gusty winds downed trees and utility poles, toppled vehicles, and flooded certain areas with 3-10 inches of rainfall.
According to news reports, the current storm is 'the strongest to hit the Bay Area in 2 years,' and as per meteorologists, 'is part of a massive atmospheric system that includes a river of moisture being pulled up from the tropics and a "bomb cyclone" hitting the Pacific Northwest with the power of a major hurricane.'
"It will be a wild 24 to 36 hours across northern California as we will see an extreme and possible historic atmospheric river push through the region," wrote the National Weather Service (NWS) in Sacramento on Sunday.
Flash flood watches are up across the Bay Area, Sacramento, the Sierras, and other regions. Highway 70 in Plumas County was closed after a rockslide blocked the highway. Popular California attractions, including Alcatraz Island, the San Francisco and Oakland zoos, sidewalks on the Golden Gate Bridge, were all shut for visitors in view of the heavy rains and strong winds. Evacuation orders were also issued for San Mateo and Santa Cruz. Other areas hit by massive wildfires might soon be asked to evacuate in view of the impending danger of flash floods.
Travel across the Bay area has also been impeded with hundreds of flights being delayed or canceled as the storm continues to rage across the west coast.  As of Sunday morning, 139 flights were delayed and 52 others got canceled at SFO airport, reported the Times. So, travelers flying to or out of California must have to be prepared for flight delays, rerouting, or cancellations that may arise due to current weather conditions in the Bay area.
The bomb cyclone, a type of storm that forms when atmospheric pressure rapidly decreases in the area it strikes, was expected to drive the atmospheric river south, affecting areas south of San Francisco.
What is an atmospheric river? Here's what it is and what causes an atmospheric river
An atmospheric river refers to a narrow, long and moisture-laden plume of condensed water vapor drifting in the air, more than two miles above the ocean. It has other names too — tropical plume, tropical connection, moisture plume, water vapor surge, and cloud band.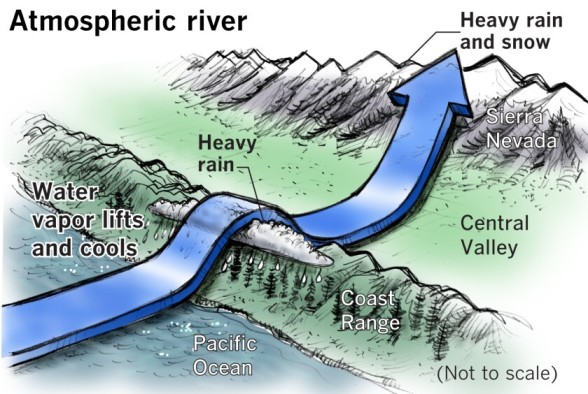 Likened to a river flowing in the sky, the atmospheric rivers carry large amounts of water (typically from the tropics), and when they move inland, the water vapor cools down, releasing itself in the form of rain or snow. Can you believe a single atmospheric river can transport an average of 10.5 trillion gallons of water per day?
Atmospheric rivers, a key feature in the global water cycle, have a crucial role to play in maintaining California's annual precipitation levels. However, there are such instances too when the fierce ones caused flooding and led to the loss of life and property.
Indian Eagle is a leading travel booking company that is committed to modernizing and economizing air travel. Indian Eagle's Travel Diary brings to you all the latest travel-related news, updates and other information related to India and USA travel besides interesting travel articles, guides, tips, and more.