The calendar of Los Angeles Indian events in August 2017 is full of celebrations, concerts, awards and cultural programs. The list of Los Angeles Indian Community events in August 2017 includes a spiritual event, an elite awards function, a concert and patriotic celebrations. We at Indian Eagle share information about the best of events for Indians in Los Angeles. Check them out below.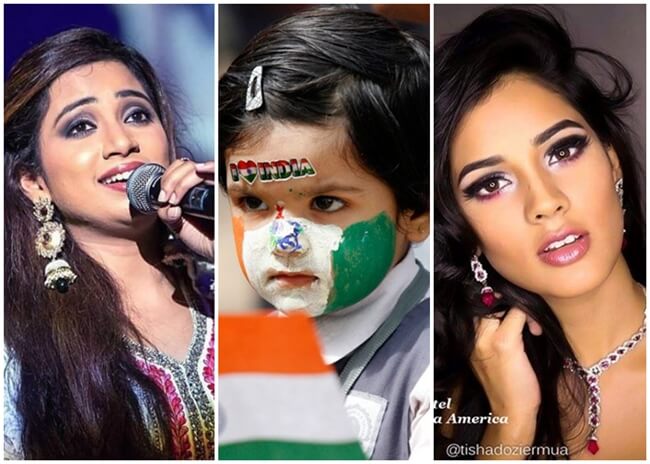 Shreya Ghoshal Live In Concert
The Los Angeles Indian Community is going to witness one of the biggest musical extravaganzas on August 27 at Microsoft Theater, LA. Melody queen Shreya Ghoshal is going to mesmerize Los Angeles Indians with her magical voice. This is considered to be one of the best Indian events in Los Angeles in August 2017. The Shreya Ghoshal Live in Concert is presented by Sankara Eye Foundation, and part of the proceedings will go towards charity. Get ready folks! Block your day to experience this once in a life time opportunity!!
25th Mr. & Miss India America with the Elite Awards
The 25th Mr. & Miss India America 2017 is going to be a grand gala with the likes of Eugenia Kuzmina, Brett Dalton, Tara Reid and other prominent stars from Hollywood gracing the venue. This event is more special this year as it commemorates the 25th Silver Jubilee. No wonder, this is among the most awaited Indian Events in Los Angeles in August 2017. The star-studded Red Carpet event promises loads of entertainment that the Los Angeles Indian Community could not afford to miss. Scheduled on August 5 at LAX Renaissance hotel, the 25th Mr. & Miss India America will commence with the biggies from Hollywood at 6 pm followed by dinner and show.
Divine Jaher Satsang Sabha
Indians in Los Angeles will get themselves immersed in religious fervor during the Divine Satsang Sabha that is scheduled to take place on August 6. The Los Angeles Indian Community can take part in the unique spiritual discourse session by HH Satya Sankalp Dasji Swami (HH Swami Shree). Of all Indian events in Los Angeles in August 2017, this is mandatory for people who seek eternal happiness in their lives. The Divine Jaher Satsang Sabha will be conducted in Gujarati language and Mahaprasad (Dinner) will be served after the event. Gujarati Indians in Los Angeles may repent if they miss this great opportunity.
18th Annual Independence Day Celebrations
The India Association of Los Angeles proudly presents the 18th Annual Independence Day Celebrations, to be held at Chatsworth, Los Angeles, CA on August 26.  There will be food stalls, lifestyle stores and health checkup booths at the venue of this Indian event in Los Angeles. Congressman Brad Sherman will be the Guest of Honor apart from other elected officials. The Indian Association of Los Angeles provides a solid platform to showcase local talent in public. More than 10000 people are estimated to grace the venue and be a part of the annual Independence Day celebrations in Los Angeles. You can also check our list of 71st Indian Independence Day Celebrations in USA
Sukhbir + Surj RDB LIVE – Welcome Back Tour
The welcome back tour by Sukhbir and Surj RDB will take place at the Auditorium of Valencia High School, Placentia, CA on August 26. Get ready for one of the most exciting Indian Events in Los Angeles in August 2017! Sukhbir, the man behind the ultimate party song who just released the smash hit "Oh ho ho ho" featured in Hindi Medium is joining up with SurjRDB from the group that defined Rhythm, Dhol, and Bass. Their collaboration is sure to rock Indians in Los Angeles. There will also be live dhol players to make you want to get up and dance. You can't miss it!
Travel Beats, a leading Indian American community magazine by Indian Eagle, publishes the latest travel, tourism, visa, immigration and community news apart from listing upcoming Indian events in US cities. Indian Eagle is a trusted travel partner of Indians in the US for booking their cheap flight tickets to India from Los Angeles and other US cities.